Member Detail: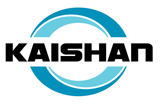 Kaishan Compressor USA, LLC
Member Information:
For 60 years the Kaishan Group has steadily grown to become a significant, diversified engineering company developing high value machinery for industry worldwide. With modern specialized manufacturing facilities positioned in seven strategic locations, Kaishan is the world's third largest manufacturer of of air compressors. Today we produce over 60,000 rotary screw and 250,000 reciprocating compressors annually. Supporting these production facilities, Kaishan Group, including thirty- two subsidiary companies, supplies compressed air and mining equipment to over sixty countries and regions including the USA, Australia, Europe, Japan, Korea, Russia, Africa and throughout Latin America.
Address:
15445 Industrial Park Drive
Loxley, AL 36551
Telephone: Toll Free: 1-833-KAISHAN
General Email: info@kaishanUSA.com
Member Link (URL): http://www.kaishanusa.com/
Product Lines:

Rotary screw air compressors in many different configurations from 10 HP to 500 HP, single stage, two stage energy efficient, low pressure, high pressure, vacuum and gas compressors.
Brand Names:
Kaishan
Contacts:
Dave George, Director of Sales, Americas
E-mail Address: dgeorge@kaishanUSA.com
Telephone: (251) 202-0577
Keith Schumacher, CEO
E-mail Address: kschumacher@kaishanUSA.com
Telephone: (251) 202-0577
Carl Stokely - Marketing Manager
E-mail Address: cstokely@kaishanUSA.com
Telephone: (251) 202-0577